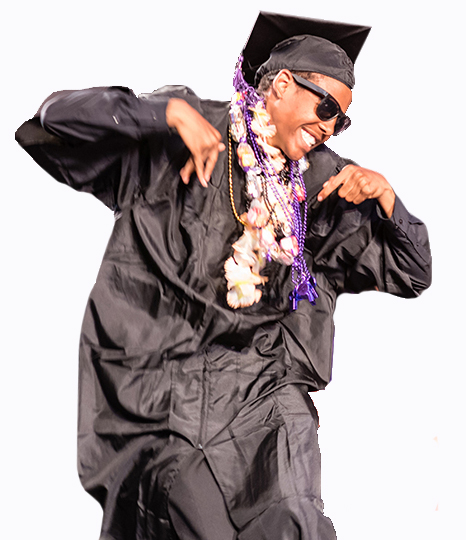 Our students graduate ready to take on the challenges of college.
Below are some of the key strategies we use to prepare them to be empowered agents of their own learning:
PORTFOLIO DEFENSE:
DRIVING SUCCESS THROUGH AUTHENTIC ASSESSMENT
In addition to using traditional forms of testing, we use an assessment system – Portfolio Defense – that emphasizes students' deep understanding of academic disciplines. Students assemble a portfolio of their best work, which they must "defend" in front of an audience of educators, peers, and community members. Students practice these kinds of defenses multiple times for various classes and project; they deliver comprehensive defense presentations at the end of both 8th and 10th grades; and finally in 12th grade, our seniors must deliver and pass the College Success Portfolio Defense – doing so is a graduation requirement.
WORKPLACE LEARNING EXPERIENCE
All of our Upper Division (11th and 12th grade) students participate in a Workplace Learning Experience, or WLE.   During WLE days, instead of coming to school, students work full time at an internship site.  To secure the internship, they research companies and careers, write resumes and cover letters, and practice interview skills.  We encourage them to seek an internship in a field of interest, and the WLE helps many students identify their ideal career (or one they don't want!)  As interns, students work with a site-based mentor and complete a project with measurable outcomes.  At the end, they present their experience and their project in a public exhibition.  It's a powerful experience that equips students with job search practice, real world professional skills, self-confidence and first-hand exposure to a career field.
Envision students have interned at Lawrence Berkeley National Laboratory, Oakland Zoo, Clinica de la Raza, Luke's Hospital, Youth Radio, the Ella Baker Center, the Alameda County Sherriff's Office, Guidance Software, the US District Court, International Brokers, Academy of Sciences, Holy Stitch and the Comic Book Museum, among many others.
PERSONALIZED COLLEGE PREPARATION
At Envision Schools, graduating means much more than earning a diploma—it means going to college and being prepared to meet college challenges. 75% of Envision's students will be the first in their families to go to college.
All of our students meet the requirements (A-G coursework) for admission to California's public university systems–a standard unheard of in most California public schools. Teacher-advisors help students navigate the college admissions process and support students' readiness for college. Students visit a different college every year at Envision and all 11th graders participate in College Spring to help them prepare for the SAT.
TEACHER PROFESSIONAL DEVELOPMENT
Envision Schools invests heavily in teacher professional learning. Professional learning opportunities include:
3 hours of professional learning every Wednesday with school colleagues,
A 3-day orientation and welcome to Envision for new teachers in August,
3 full-day all-network professional learning days (called All Envision Days)
Leadership development for teacher-leaders
Coaching development for teachers interested instructional coaching
Total of 10 days of professional learning and collaboration per year