AN ENVISION TEACHER, ON EMBRACING STUDENTS
Meet Julia, another great Envision teacher!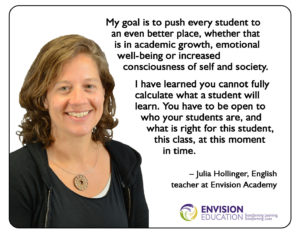 WHAT MOTIVATES YOU AS A TEACHER?
My goal is to push every student to an event better place – whether that is academic growth, emotional well-being, the ability to take care of him/herself in necessary ways, intellectual awareness or increased consciousness of self and society. I have learned that anything is possible. You can not fully calculate what a student will learn, or even needs to learn, and you can't fully control the use of that knowledge: you have to be open to who your students are and be willing to embrace their complexity and ability to transform before your very eyes. Your teaching needs to be responsive to this complexity and this often means sorting through the noise and motion of educational "reform" and figuring out what is the right this for this student, this class, at this moment in time.
TELL US ABOUT YOUR STUDENTS.
The students at Envision are incredibly warm, authentic, open and striving. I have only been here for six months but I feel deeply connected to the students and I think this speaks to their willingness to embrace their teachers and trust that we have their best interests in mind. I look forward to seeing my students every day because I know that I will be treated with respect and that they value me as their teacher.
DO YOU HAVE A FAVORITE PROJECT YOU'VE DONE WITH YOUR STUDENTS?
Ah, so many! Based just on this year, I'll say my Looking for an Argument Unit based off a platform developed by some teachers at James Baldwin High School in NYC many years ago. Right now the students are in partners researching both sides of complex questions that they have chosen from a giant list published by the New York Times. They will prepare both sides of the argument and have to verbally defend the side I choose for them on presentation day. It has been great fun watching them spontaneously, and with genuine interest, dive into their research and engage in ongoing conversation about their chosen topics with their friends. Plus, I have learned a lot about the 40+ issues they are exploring.
* * *
Julia started her teaching career twenty years ago and this is her first year at Envision Academy in Oakland.  She is great at inviting her students into meaningful conversations about current issues and the works they read in class.  Her students — and the Envision Education network — are lucky to have her!